FULL SUSPENSION TANDEM MOUNTAIN BIKE
Two-seater full suspension tandem mountain bike made to measure with customizable colors and components
COMPONENTS AND CHARACTERISTICS
At Campmajó we offer the possibility of customizing the components to be assembled for each tandem. Even so, to make the decisions easier for those who are not so clear, we have detailed below the three most popular standard component packs. From the lowest and most affordable range, to the highest with its corresponding total price.
The price of the component pack is not included in the price of the frame.
TECHNICAL DETAILS
BASIC COMPONENT PACK
MEDIUM COMPONENT PACK
TOP COMPONENT PACK
TECHNICAL DETAILS
7000 series aluminum frame handcrafted in Tarragona
Hardtail rigid frame option for XC
Suitable for Boost wheel 29 x 2.6" maximum
SRAM UDH detachable dropouts
CNC machined shock mounts, tie rods, dropouts, brake caliper mount and frame and swingarm pivot points
Suspension kinematics designed specifically for tandem and customizable according to each rider's riding style
"4 Bar" suspension system with "Horst Link" FSR pivot point with 14 sealed bearings to ensure maximum smoothness of operation
Actual rear wheel travel between 110 and 160mm depending on shock absorber size
Integrated tapered steering
Internal routing of shift cables, brakes and telescopic rods
Anchorage ISCG05 in the BSA crankset with chain guide-crankcase to adjust the timing chain
Direct support P/M for disc of 203 or 223 mm
Fits 2 31.6 mm dropper seatposts with internal routing and specific rear power (power sold separately)
Possibility of Standard or Trunnion shock absorber (different models)
Custom size for pilot and co-pilot or possibility of multi-size suitable for riders between 165 and 185 cm
Customized geometry with the possibility of "Forward geometry"
Choice of colour with contrasting logos and multicolour option (additional cost)
5 year guarantee against possible manufacturing defects
BASIC COMPONENT PACK
MEDIUM COMPONENT PACK
TOP COMPONENT PACK









FULL SUSPENSION TANDEM PRICE
Double suspension tandem bike
Price includes aluminum frame
"Bikefitting" geometry design
Frame painting (1 frame color + 1 logo color)
Assembly of components (if chosen by the customer)
VAT included
Rigid tandem bike (front suspension only)
Price includes aluminum frame
"Bikefitting" geometry design
Frame painting (1 frame color + 1 logo color)
Assembly of components (if chosen by the customer)
VAT included
Want to customize your tandem? Fill out the form and let us know how you want it!
If you have any questions about our product, do not hesitate to contact us!
(ℹ️) Note
Our products are in constant development, which is why it is possible that the current models already have differences and improvements compared to the ones you have seen as an example in the photographs on the page.
WE MAKE YOUR IDEAL MOUNTAIN TANDEM BIKE!
Our brand has vast experience in the sector and many years of development dedicated to mountain tandem bikes. This has allowed us to refine our designs and technology, ensuring that our products meet the highest standards of quality and performance.
Enduro tandem bikes are ideal for mountain tours on tracks, trails and demanding terrain. The rear suspension absorbs shocks and vibrations effectively, providing more comfort and stability during the ride, especially for the second rider. In addition, by keeping the wheels in constant contact with the ground, traction is maximized and control is improved, making it possible to overcome difficult roads with greater ease and safety.
Our commitment to innovation and constant improvement drives us to remain leaders in the mountain tandem market. With high-quality components and a robust construction, we guarantee the durability and resistance needed to enjoy mountain adventures for years.
"The latest creation is the Campmajó Bikes EnDuo tandem, a model that already has a long evolution behind it and which, custom-made in Spain, is presented as the best MTB tandem you can find"
ESMTB magazine
Join the community of adventurous cyclists and enjoy the thrill of conquering the mountain on a tandem bike!
CHECK OUT OUR TANDEM IN ACTION!
Alfons is a blind tandem rider who loves sport and mountain trips, feeling the sensation of being on wheels and the speed of the descents. Thanks to the tandem he can enjoy all these sensations again. With the help of a pilot who guides the tandem he can go in the back seat living and doing what he likes the most again. Here is an example of a video he uploads on his Youtube channel where you can see what his rides look like.
Below are some examples of both electric double suspenasion and hardtail tandems. Each of them has been customized to the last detail with different types of paint, components and sizes. 100% aligned to our customers' preferences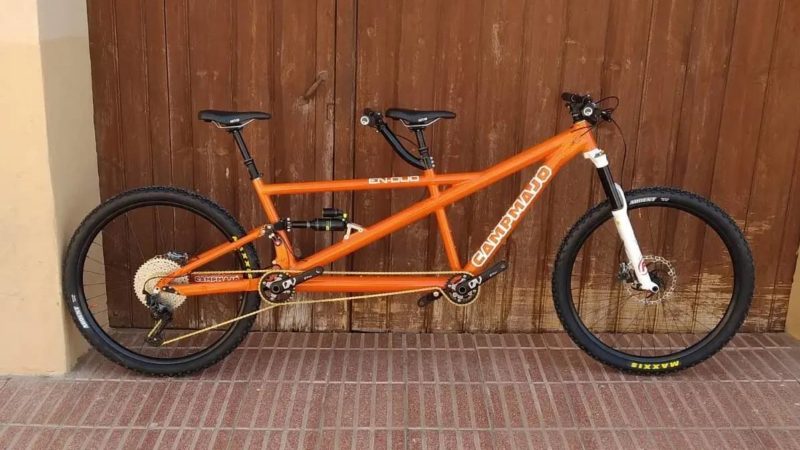 GREEN HARDTAIL MOUNTAIN TANDEM

Thanks to our artisan working methodology, we are specialists in adapting our products to the physical needs and aesthetic preferences of each of our customers. If you already have an idea of what your desired tandem would look like, don't hesitate to let us know
DISCOVER ALL OF OUR TANDEM BIKES!